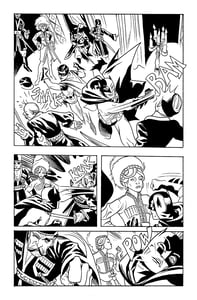 $

150.00
This is an original page from Ted Naifeh's issue from Batman '66. It features Batman, Robin, and the villainess of the issue, Olga, Queen of the Cossacks.
It measures 14 x 17 inches on Bristol and done with pen and ink. Once bought, it will be shipped next business day.
Will ship priority with tracking to all US buyers. Will ship to international buyers, but they can pay extra for international shipping (roughly $40, which includes tracking and some insurance).